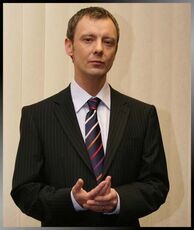 The Rt Hon. Harold James Saxon MP is a Conservative Politician who represents the constituency of Aylesbury. Mr Saxon is currently the The Shadow Secretary of State for Defence and the Deputy Fundraiser for the Conservative Party on the shadow cabinet of the current Leader of the Opposition Robert-Noble-Gordon.
Early Life
[
]
Harold James Saxon, MP. Born July 4th 1928, Aylesbury; son of Lionel and Mary Saxon; married Harriet Saxon (maiden name: Davis) March 6th 1965; father to Michael age 4, b. July 5th 1968 Educ: John Hampden Primary, Aylesbury Grammar School, Oxford University (BA (Hons) 1950, MA 1956) in Banking Law. Joined the Young Conservatives in 1938. In 1942 he was called up to the Army until the end of World War II. He then Joined the Conservative Party after the war in 1946.
Interests; Football, Rugby, Cricket, Sightseeing, gliding.
Political Career
[
]
Harold Saxon then became a Member of Parliament for Aylesbury in 1960 (Conservative), Backbencher for 6 years (1960-1966), Shadow Secretary of State for Industry (1966-1970), Secretary of State for Trade and Industry (1970-1974). He has served in a number of Shadow Cabinet positions, most notably in his current positions as Shadow Defence Secretary and Deputy Fundraiser.
Resignation of Ben Walker
[
]
After the Conservative Leader Ben Walker resigned, Mr Saxon supported Mr Robert-Noble Gordon in the leadership contest. Mr Saxon was given the position of Shadow Secretary of State for Defence and Deputy Fundraiser for the Conservative Party in the new shadow cabinet.
Offices Held
[
]
Preceded by: Timothy Raison
Member of Parliament for

Aylesbury

(1960-Present)
Succeeded by: Incumbent
Preceded by: Unknown
Shadow Secretary of State for Industry (1966-1970)
Succeeded by Incumbent
Preceded by: Unknown
Secretary of State for Trade and Industry (1970-1974)
Succeeded by: Incumbent
Preceded by: Unknown
Shadow Secretary of State for Trade and Industry (Early March 1974)
Succeded by: Unknown
Preceded by: Unknown
Shadow Minister for Agriculture, Fisheries and Food (Early March 1974-July 1974)
Succeded by: JP Kutler
Preceded by: Arthur Jernigan
Shadow Secretary of State for Trade (July 1974- January 1975)
Succeded by: JP Kutler
Preceded by: Arthur Thurstall
Shadow Secretary of State for Employment (January 1975-March 1975)
Succeded by: George Brent
Preceded by: Paul Holmes
Shadow Secretary of State for Defence (March 1975- Present)
Succeded by: Incumbent
Preceded by: Edward Parker
Deputy Fundraiser for the Conservative Party (March 1975-Present)
Succeded by: Incumbent