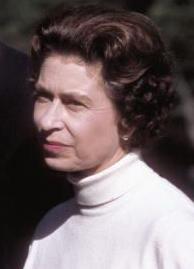 Elizabeth II, (born 21st April 1926) is the current Queen Regnant of the United Kingdom of Great Britain and Northern Ireland and has reigned since 1952. She celebrated her Silver Jubilee in 1977. In addition to the United Kingdom, Elizabeth II is also Queen of Canada, Australia, New Zealand, Jamaica, Barbados, the Bahamas, Grenada, Papua New Guinea, the Solomon Islands, Tuvalu, Saint Lucia, Saint Vincent and the Grenadines, Antigua and Barbuda, Belize, and Saint Kitts and Nevis, in each of which she is represented by a Governor-General. Elizabeth II holds a variety of other positions, among them Head of the Commonwealth, Supreme Governor of the Church of England, Duke of Normandy, Lord of Mann, and Paramount Chief of Fiji.
Early Life
Edit
Elizabeth was born at 17 Bruton Street, in Mayfair, London, on 21 April 1926.[2] Her father was Prince Albert, Duke of York (the future King George VI) and her mother was the Duchess of York (born the Hon. Elizabeth Bowes-Lyon, later Queen Elizabeth, and, after her daughter's accession to the throne, the Queen Mother). She was baptised in the Private Chapel on the grounds of Buckingham Palace (it no longer exists, as it was destroyed during World War II) by Cosmo Gordon Lang, the Archbishop of York.
As Queen
Edit
As Queen, Elizabeth II has visited Australia, New Zealand, Fiji, Canada, the United States, India, Iran, Pakistan and Nepal. She celebrated her Silver Jubilee in 1977. She created her son, Charles, Prince of Wales in 1958.
The Queen is married to Prince Philip of Greece and Denmark, now Duke of Edinburgh. She has four children; Prince Charles, Princess Anne, Prince Andrew and Prince Edward. Prince Charles is currently courting Lady Diana Spencer. Other prominent family members include Queen Elizabeth, The Queen Mother; Princess Margaret and Princess Alexandra of Kent.